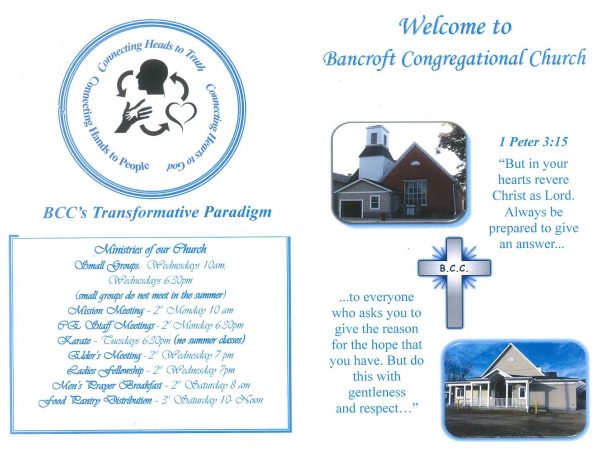 Scroll down for our list of recent bulletins
Our BCC weekly bulletins help keep you informed of what is happening at church. It also gives the order of worship, so you know what happens during this special Sunday time. The BCC paradigm is "Connecting Heads to Truth; Connecting Hearts to God; Connecting Hands to People".
Here at BCC, we truly strive to live up to our nickname "The Friendly Church" and hope that you will decide to come and join us so we can prove this claim!
For that reason, the front page of our BCC weekly bulletins claims: We Welcome You to Bancroft Congregational Church!  Whether you are visiting in person or live streaming our service on FaceBook, we desire that you are attracted to Christ during our worship time.  It is our prayer also, that you dive into God's Word each day and grow in your faith.  In our troubled times, this act of growing closer to God will bring comfort, calm, Truth, security, and a sense of well-being.
Are you local?  You might also consider joining our Christian Education Hour (C.E.)  [which meets an hour before our Worship service at 9:45 am.  We have classes for all ages and each class strives to build your faith, always allowing for a time of discussion and questioning.
BCC also offers weekly small group study on Wednesdays.  One group meets in the morning and one in the evening.  Each group chooses its study materials, has a time of fellowship [each group offers snacks], then engages in a time of study and prayer.  This format also helps you grow in your faith within a fellowship of caring people.
For those of you who live stream, feel free to send us your questions.  Feel free to fill out the message section with your questions.  We will get back to you as soon as possible.  We are here to serve!
Psalm 133:1 states: "How good and pleasant it is when God's people live together in unity!" 
Come and join us soon!
Please continue to scroll down for the link to our BCC weekly bulletins.  If you are visiting and have a home printer, you may want to print out the 'QR' bulleting or scan the code inside the church.  But don't worry!  We have printed bulletins available if you can't print your own.